Where are the controls?
Most maps don't consider controls except as part of a higher level function. For improvement, audit work, and Sarbanes-Oxley process documentation, this is a critical oversight.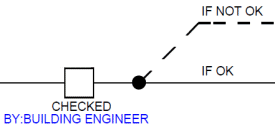 Controls - Inspection
The Inspection symbol

tells you that the item is being checked to see if it is right (correct, complete within standard, etc...). A Decision Point typically follows an Inspection symbol, with at least one of the alternatives shown as a dotted line. A dotted line represents a Correction or Rejection routine. As with all the Graham Symbols, control steps are identified for a SPECIFIC document / item.


If multiple items/steps represent a control, that's easily displayed as well. Simply draw a frame around the objects... and link from the frame (or from any individual symbol) to a Controls Matrix.

to find work being checked. At the top of the sample process map, an Order List is being used by the Building Engineer to check the Approval Copy of the Receiving Ticket (follow the line to the left until you get to the Label that identifies the item.
Questions or Comments - Call 800-628-9558 or Look for the Inspection symbols
send us a note
Copyright 2014, Ben Graham Corp.